Project Description
Day 5 (Daniela from Slovakia) 14/1/2017
After four days of constant learning, practising, team-building and FUN mostly, we still keep  on enjoying our stay here in the  beautiful surroundings of Kaprálův mlýn. Today our most important goal was to get through the topic of non-violent communication together with Adam and Vojta. In their interesting  and very interactive workshop, we firstly tried to open ourselves, talk to each other and listen very carefully in pairs and then guys introduced us to the "Iceberg theory".  They showed us how important is to see the emotions and reasons behind the people's reactions and we established some methods which could be useful in several difficult situations.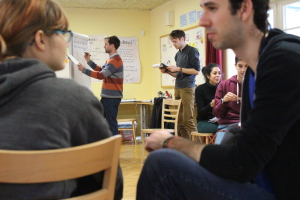 Some people from Syreczech came in the afternoon and joined us for a lovely walk to the Pekárna cave. We explored the interior of the cave together and when we got out all of those "non-violent" methods were  used in the practice. HOW? We started our own snowball fight! It was so much fun, nobody was hurt (except for sledges).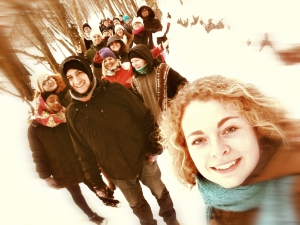 In the evening we had a little "infontainement":  PUB  QUIZ made by Lukáš.  Our four teams (Kífák, I'm not racist butt, Bus drivers and Super toper) were really competitive BUTT mostly creative.