Project Description
Day 8 (Michalina from Poland) 17/1/2019
After great breakfast we were thinking about the games we developed the day before, reflection of it and the whole day (in the groups, who were responsible for the creating process and activities). Lela told us the special rules for the procedure to make our work clearer next time (e.g. to share together what we liked about it, what we would improve, feedback for other participants). I was with Orsi, Nawal and Soňa in this educational activities group and I can say, that our yesterday work was really easy and smooth, therefore we had only positive feedback. However we focused on the improvement of role-playing as well. After, we evaluated our group meeting together and focused on the way how to share achievement with public.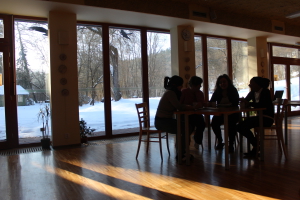 We also discussed the future cooperation either among the national participants (Polish group proposed organization of an youth exchange and develop a board game focused on Polish history, because this topic is not so open among youth yet and we can see some parallels there with European refugee crisis of today) and also on the international level.
In the afternoon, we made the evaluation of the whole training course – our feedback, feedback for the organizers, for the accommodation, the food and the whole project venue of Kaprálův mlýn. During the evaluation in the sharing circle in the candle light, where we were talking about our experience and wishes, I was thinking if there is something, what I didn´t like during this week … I found out that there is nothing to complain.
I´m happy and privileged to write the last report of this week. Besides that I feel ready and motivated to learn even more from now. I already participated in a lot of Erasmus+ projects and conferences, but I feel that this training was the best I have ever attended.